Geldings and stallions for sale
For more imformations contact our at mao@centrum.is
At our farm we breed horses for sale. If you cannot find the right horse for you at our farm, we will try to help you find it elsewhere.
We will also help you export your horse to another country.

On the top of the page you will see the newest geldings on my sale list.

We have many different geldings for sale. Some of them are from our own breeding lines, but others are from other horse breeders. We are in contact with more than 30 breeders and trainers and we want to help you to find your dream gelding in this big group of geldings for sale. If I do not have the gelding you are looking for on the following list, please ask me to find it. I am sure I can do it.

If you are looking for group of horses for resale, feel free to ask me to find a group of horses, which are good for you.

I would like to give you a special price if you are going to buy 5 horses or more. We want to help you find a really good quality horse in
Iceland because it is so expensive to export them.
On this site we describe a select number of the horses, which we have for sale. We have also many other horses for sale and we can find your dream horse in our area.



If you are looking for mares, please go to


Please email to: mao@centrum.is
New geldings
IS1997156164 Kyndill from Flogu

F.: IS1989166690 Þyrill from Adalboli
M.: IS1986287028 Kapitola from Stokkseyri
Kyndill is a chestnut gelding with a star. Kyndill is an easy pleasure riding gelding, but too fast going for a beginner rider. Kyndill is a very fun trail riding horse.
Blossi from Solvabakka


F: IS1989166690 Þyrill from Adalboli
M.: IS1982256017 Elding from Solvabakka
Blossi is a handsome chestnut with blaze. He has not had very much training but will be a 5 gaited competition horse. He has been easy to handle with his pleasant character. He has a very strong conformation, and would be suited for the experienced rider.
Dalur from Efri Fitjum f.1997 bay
F. Baldur f Bakka
M: Nos f. Harastodum
Dalur is a really good 4 gaited gelding. Good for everyone, with a bit of experience, and a lot of fun for every good rider.

Young untrained geldings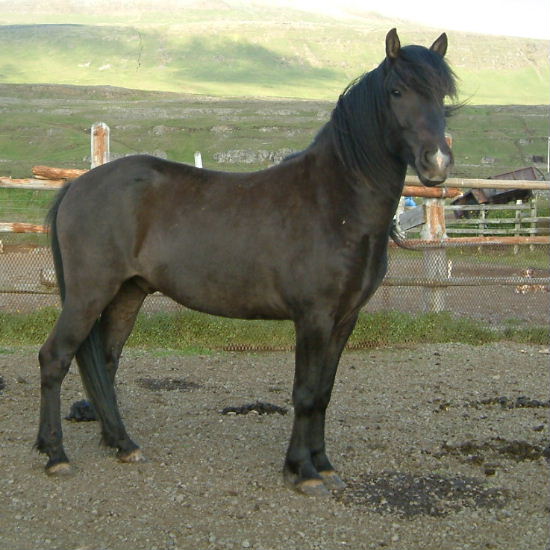 pitcure2
IS1999155429 Lander from Bergsstodum



F.: IS1992186300 Skorri from Gunnarsholti
Ff.: IS1986186055 Orri from Thufu
M.: IS1989286102 Logg from Kirkjubae
Mf.: IS1985186112 Dagfari from Kirkjubae
Lander from Bergsstodum is a black youngster, born 1999. His movement is good and he is friendly.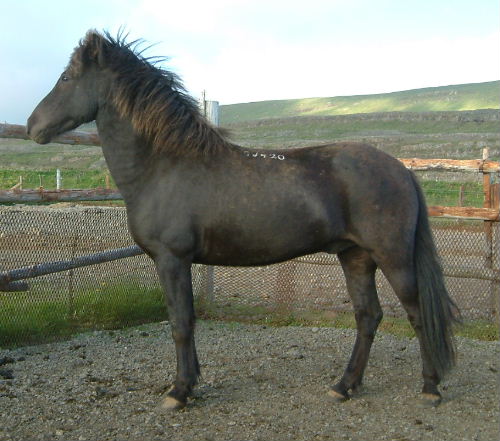 pitcure2
IS1998155420 Nupur from Bergsstodum


F.: IS1995155702 Randver from Thoroddsstodum
Ff.: IS1984151101 Stigandi from Saudarkroki
M.: IS1987265499 Nett from Akureyri
Mf.: IS1984158471 Thokki from Asgeirsbrekku

Nupur from Bergsstodum is black youngster with a star. He is very big and looks to be very strong. He is friendly.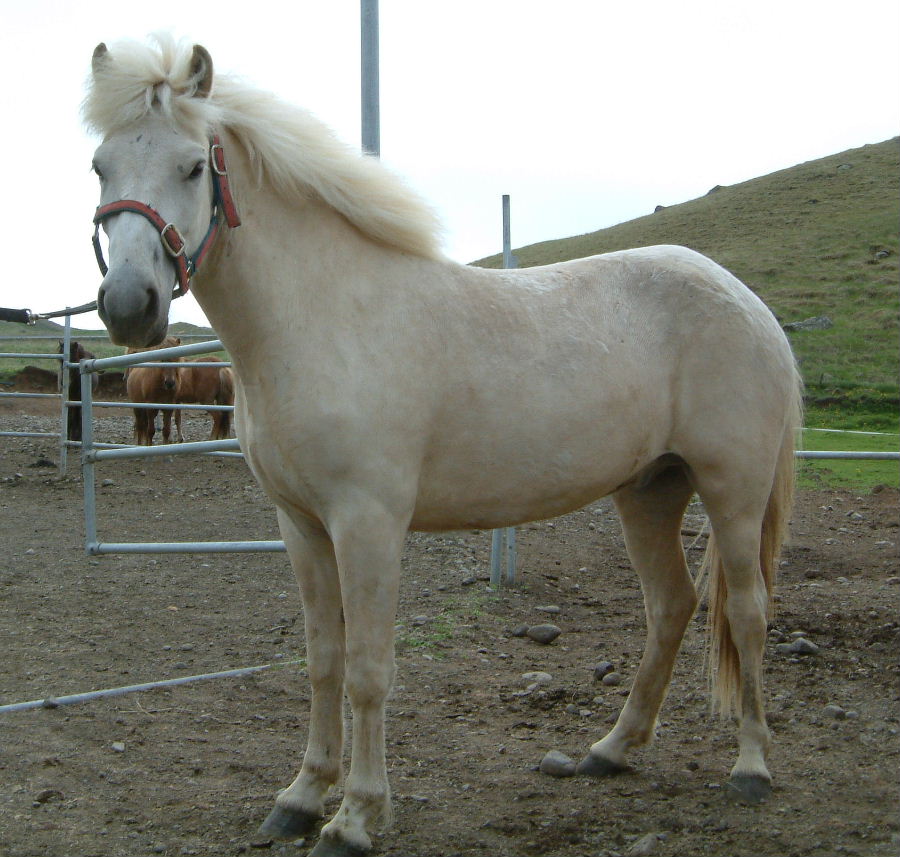 pitcure2
Lysingur from Sveinsstodum


Lysingur from Sveinsstodum is only 4 years old and has just be started under saddle. He is son of Skinfaxi from Thoreyjarnupi, which is son of Oddur from Selfossi.




Geldings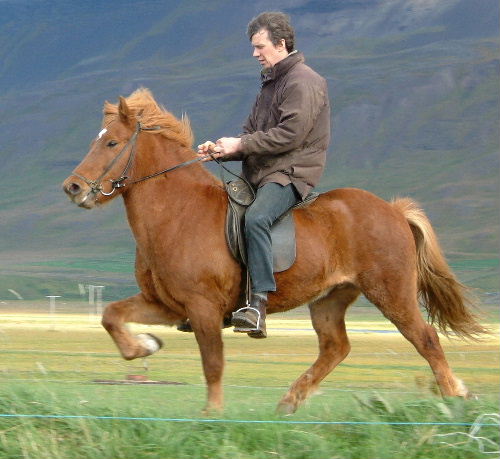 pitcure2
pitcure3
Muninn from Svertingsstodum

Muninn from Svertingsstodum is a 9 year old gelding, strong and powerful. You will enjoy riding this four gaited gelding. He has been used for roundups and competition and has a lot of experience. He is not for a beginner rider, but a strong horse for long trail riding.



pitcure2
Laufi from Steinnesi

Laufi from Steinnesi is a very strong gelding and a good riding horse.
You can go for a long trip on a horse like that. He is always ready to go and has been used in horse trekking and also in roundups in the mountains. He is really good choice for someone who is looking for a strong gelding for long rides.



pitcure2
pitcure3
IS1994155055 Vafi from Vididalstungu

F: Stigandi from Sidu
M: Kvika from Grafarkoti
Vafi from Vididalstungu is a four gaited gelding. He is chestnut with a blaze. He is safe horse for beginner rider and he is a good trail riding horse. You can easily catch him in the pasture. He has been ridden in the round up and the owner has used him a lot on the farm, as he searches for sheep and drives the horses. He is not a competition horse, but a nice guy for someone who is looking for a good family horse.
Price: isl. kr. 200.000 $ 2,700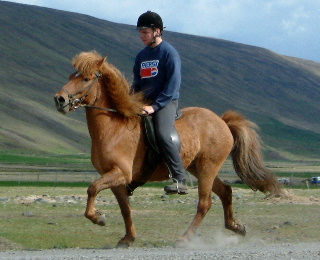 pitcure2
pitcure3
pitcure 4
Stjarni from Grimstunga
born 1994
F. Fontur from Grimstungu
Ff. Gassi 1036
Fm. Nott 4971
M. Stjarna from Grimstungu
Mf: Fifill 997
Mm: Sokka

Stjarni from Grimstunga is a good pleasure riding gelding. Everyone can ride this gelding, but I would not say he is for a beginner rider. He is
a good trail riding horse and he is a strong gelding if you would like a gelding for long rides. He is not the friendliest of horses yet, that comes to you in the pasture, and maybe you will need a pen to catch him. We hope he will learn quickly to know you and trust you.
pitcure2
pitcure3
Snudur from Sunnuhlid
Snudur is very easy riding horse and 100 % safe horse. I have had this gelding for two years and he is doing fine this winter. He was at a clinic for kids in last 14 days and did very well and the kids loved him.


For more imformations contact our at mao@centrum.is

For more imformations contact our at mao@centrum.is




STALLIONS
pitcure2
Kremi from Galtarnesi

F: Skinfaxi from Thoreyjarnupi
Kremi from Galtarnes is 4 years old stallion. His father, Skinfaxi, is also palomino as so you will have a good hope for light colored offspring.
Kremi has already gos some offspring. Many of them are palomino or in other light colours. He is friendly and nice and has a good movement. Kremi was started under saddle last winter and is doing very well.

IS1999155002 Haflogi from Galtarnesi

F: Oslogi from Akureyri
M: Reysing from Galtarnesi
Haflogi from Galtarnesi is a young stallion, 3 years old, untrained. He has big movement and his trot is good. His colour is very nice and his
temperament is good. His mother has got 8,16 for riding ability and his father is the famous stallion Oslogi from Akureyri.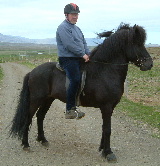 pitcure2
pitcure3
IS1997186572 Blaer from Asi

F: IS1990184730 Andvari from Ey
Ff: IS1986186055 Orri from Thufu
Fm: IS1981284726 Leira from Ey I
M: IS1981286041Perla from Asi 1
Mf: IS1978186571 Sorli from Asi 1
Mm: IS1977286571 Fluga from Asi 1

Blaer from Asi is a young stallion that received 8,48 for conformation at an Evaluation last spring. He is really nice looking as you can see from his high score. His temperament is very good. He is four gaited.
He was evaluated 2003
conformations: 8,0 - 8,5 - 9,0 - 9,0 - 8,5 - 7,0 - 9,5 - 8,0 = 8,61
riding ability: 8,5 - 8,5 - 5,0 - 8,5 - 8,5 - 8,5 - 9,0 = 7,99
Total score: 8,24 Slow tolt: 7,0

Price: Please make an offer.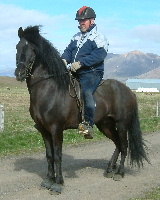 pitcure2
pitcure3
IS1995155131 Gaski from Nypukoti

F: IS1982187036 Gassi from Vorsabae II
Ff: IS1968157460 Hrafn from Holtsmula
Fm: IS1963287960 Litla-Jorp from Vorsabae 1
M: IS1986255131 Tinna from Nipukoti
Mf: IS1981187520 Darri from Kampholti

Gaski from Nypukoti is 7 years old stalion. He is black with a star and snip. He is five gaited. He has some very nice looking offspring already. This stallion is a good for pleasure riding as well as competitions. Easy to ride and friendly. He is a good choice for someone who is looking for a riding horse and stallion.
He was evaluted 2002
Messure: 141 - 134 - 139 - 66 - 143 - 38 - 47 - 42 - 6,4 - 30,0 - 18,5
Hofamal: Vfr: 7,8 - Va: 7,6
conformations: 8,0 - 8,0 - 8,0 - 8,5 - 7,5 - 7,0 - 7,5 - 7,0 = 7,83
riding ability: 8,0 - 7,0 - 8,5 - 8,5 - 8,5 - 8,5 - 7,0 = 8,15
total score: 8,02 slow tolt: 8,0 slow gallop: 8,0


For more imformations contact our at mao@centrum.is